Wednesday, July 23, 2008
Posted by

Elizabeth
at 12:12 AM
2 comments:

Saturday, July 19, 2008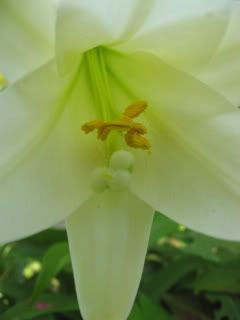 My mom has been giving me an Easter lily for Easter the past several years. Three years ago, I transplanted the lily to my garden. Each year, the foliage would come up, but no blooms. I threw away all of the Easter lilies received after that because I thought they were "done." This year, that sole Easter lily bloomed and blessed me with seven flowers.
I wish I had planted the last two plants instead of throwing them away. Live and learn.
Posted by

Elizabeth
at 10:49 PM
3 comments:

I hosted my annual Garden Party this year in July instead of June. I think July will be the new tradition. More guests were in attendance. Everyone was much more relaxed. More of the flowers were blooming and the annuals had started to fill in nicely.
The beautiful house you see in the background is my backyard neighbors'. The houses on my street are no where near that size. LOL Hence the name "Lovely Little Cottage."
Posted by

Elizabeth
at 10:44 PM
No comments: